Had a sea trial sort of QSO with Wa9CGZ in Peotone this afternoon and my PDM/ClassD was declared a success.
I gave up on Steve's output board for a number of reasons and finished up the dead bug version I had already started.
Using a 48V power supply, I am getting 40W carrier and well over 150% modulation.
I got lots of help from VK3ALK who has made both his own and Steve's modulator. Most of the help was sorting out my confusion with the ground systems which helped me do my own thing and understand what I was doing.
I would also like to thank KF1Z for his inputs on this list to help in understanding it.
I can probably get Steve's going now that I understand it but I think the driver is bad and I am out of spares. This is what the output of the driver looks like with or without the FET.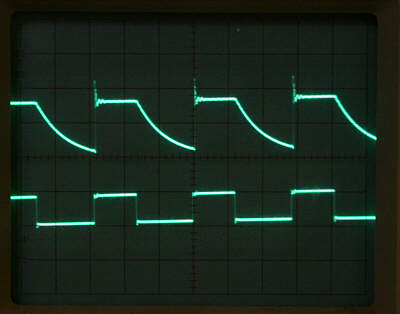 The upper trace is the output of the driver and the lower is the input to the board.
The filtered output of the board is a DC level that does not change much or at all with carrier adjustment.
I am going to start on a proper power supply for this and bought Steve's transformer but there isn't a clue what the jumble of wires coming out of it does.
Can someone decode this for me?
Thanks,
Jack K9ACT